Danielle Reversible 4-Way Silk/Cashmere Cardigan/Dress – Navy/Grey
Ways to Wear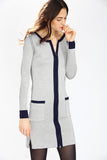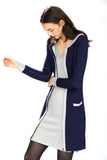 Can be worn 4 different ways. Reversible silk/cashmere cardigan/dress in navy with grey trim and grey with navy trim. CF zipper closure. Patch pockets on both sides.
Wear with zipper closed as a dress or with zipper open as cardigan.
Also available in beige/pink and red/black.
Become a VIP member now to get another 18% off! Click here!