Taylor Reversible Silk/Cashmere Pullover – Grey/Beige/Charcoal
Ways to Wear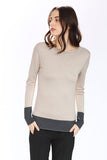 Can be worn 4 different ways. Reversible slim-fit silk/cashmere pullover in beige with a charcoal hem and cuff, and reverse to solid grey.
Wear with V-neck or scoop neck at front, roll up sleeve for a different contrast color.
See pink/grey/beige colorway for more ways to wear.
Also available in pink/grey/beige and red/charcoal/black.
Become a VIP member now to get another 18% off! Click here!